Why Translate A Site?
The main reason to translate your site is to make it available for everyone. There are some other important factors too, that you must consider.
More Exposure, Better SEO
With a multilingual website, your visibility online increases dramatically. It also improves the SEO in Google search results and in search engines that are popular in other countries. You get more exposure, catering to people in other countries in a language they are comfortable with, thereby an increase in leads and even sales.
Increase in Sales
As mentioned above, a multilingual website can also improve your business and sales. People buy products more when the description is in a language they are familiar with – their native language.
Gain Trust
Consumers are constantly looking for businesses online that they can trust and once your website can speak to them in a language they understand, they tend to trust you more. They understand that the website or business values them and want to give the best user experience to them. This increases the trust they have for the website and their chances of purchasing from the same website in the future are also high.
Automatic Translation Defined
Automatic translation or Machine translation is a method that involves Google translate or DeepL translator to generate translations. Since hiring a professional translator is expensive, time-consuming and not viable, automatic translation is the best way for translation, especially for websites. It is quick, reliable, can be availed within just a click and is extremely useful. This tutorial will give you a
Automatically Translate a WordPress Site using Google Translate
You can always rely on Google Translate if you want to translate someone else's website that does not have multilingual translation available. It is the easiest and simplest way to translate a WordPress site automatically.
All you need to do is, go to Google Translate, and choose the language of the website on the left and the language you want on the right. Then, on the left box, instead of placing a text, enter the URL of the website you want to translate. The translated URL will appear on the right; you can click on it and experience the website in your chosen language!
There are also several Google Translate plugins to help you like Translate WordPress with GTranslate, Translate WordPress – Google Language Translator and Advanced Google Translate.
Why You Should Still Go for Automatic Translation
Now, you might be thinking, if Google translate is so handy, why even bother going for other methods. Well, we have solid answers for that. Two major issues could pop up if you rely on Google Translate to translate your website's content.
A permanent URL
Google translate does not give you a permanent, translated URL of your website, which means that Google or any search engine for that matter, will not include it in the search index and you won't be able to rank multilingual search terms. So if you are looking at benefitting from multilingual SEO, this is a lost cause.
Better control over translation
The Google translation is dynamic and you have no control over the translation. There are chances of inaccuracy in the translation and you can hardly edit them.
One thing to note is that these things happen in Google translate because it is often dynamic. As long as you don't choose the dynamic approach, you can always go for automatic translation of websites. It saves you a lot of time and money and even if you aren't proficient in the languages you want your website to be translated, you can also choose automatic translation and later seek help from a professional translator to polish your translation.
We will be discussing in detail how to automatically translate a WordPress website with the help of a plugin. Our tutorial includes WPML, a very popular WordPress plugin for automatic translation.
Automatically Translate A WordPress Site using WPML
WPML is one of the best plugins for automatic translation of your websites. It is compatible with almost every theme, can translate a website easily with the right configuration and gives excellent and accurate results. Here are the three easy steps to make this plugin work well.
Install and Configure the Plugin
WPML is a premium plugin and you will need WPML Multilingual CMS or Multilingual Agency to implement translation on your website. After buying the plugin, the installation process is pretty much similar to every other plugin.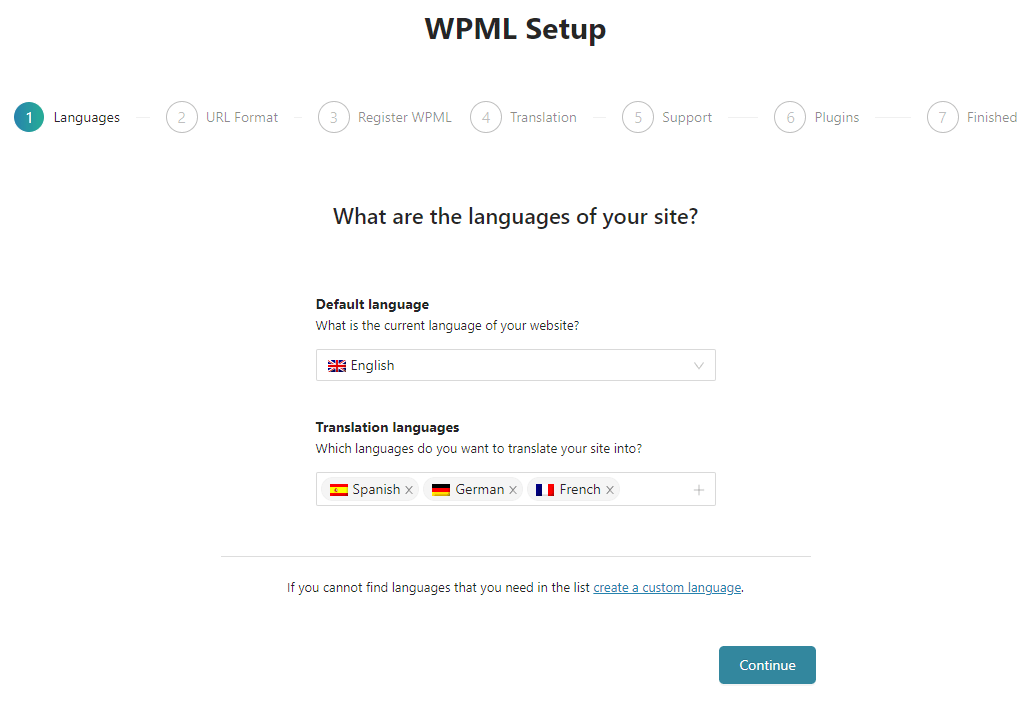 After the successful installation and activation of the plugin, WPML launches a set-up wizard which basically allows you to:
Choose the languages of your site
Format your site's URL
Register your WPML plugin
Apart from this, you can also install relevant WPML add-ons for your sire. For instance, if you have an e-commerce site, the WooCommerce multilingual plugin lets to add multiple currencies to your store and helps you translate your products, cart, checkout process and other attributes.
Enable 'Translate Everything'
The setup wizard also has a tab that lets you choose what to translate. By clicking on 'Translate Everything', you are enabling the plugin to translate your WordPress site automatically. It also updates the translations every time you make changes to the content.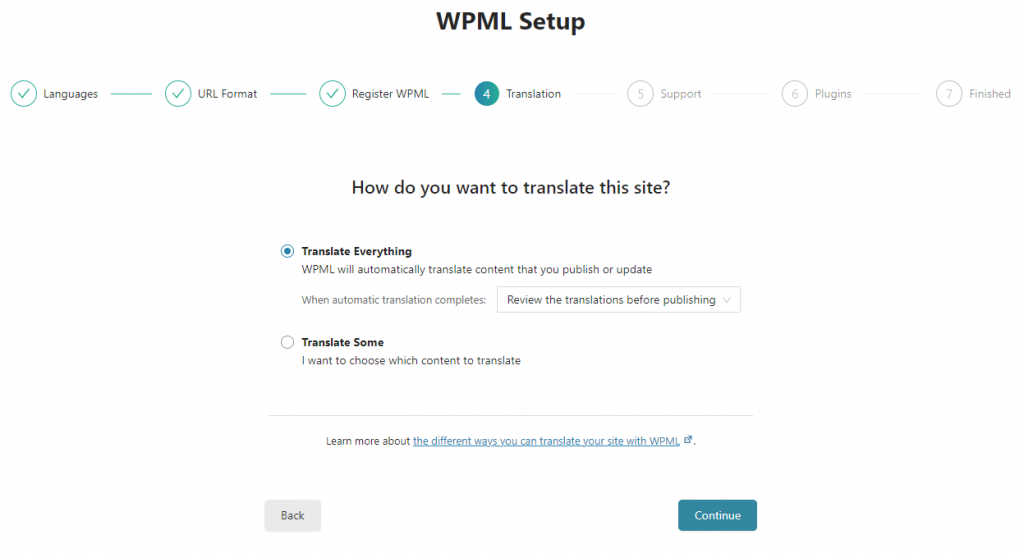 Once you finish the setup wizard, WPML will automatically translate your site including its pages, posts, custom fields, menus, and everything else. Quite simple, isn't it?
However, some custom post types, fields, and taxonomies may not, by default, be automatically translated. To get them translated, go to your dashboard, select WPML->Settings, set all of them as 'Translatable' and the plugin would automatically translate them all in no time!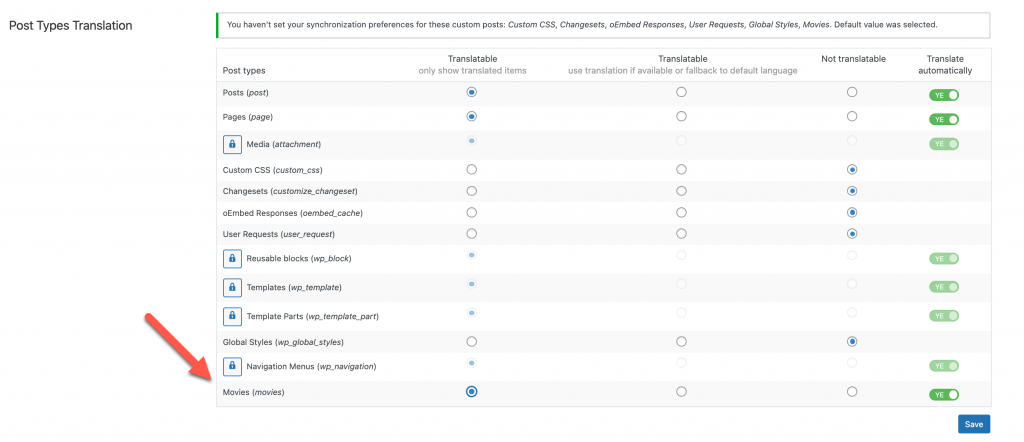 WPML Post Types Translation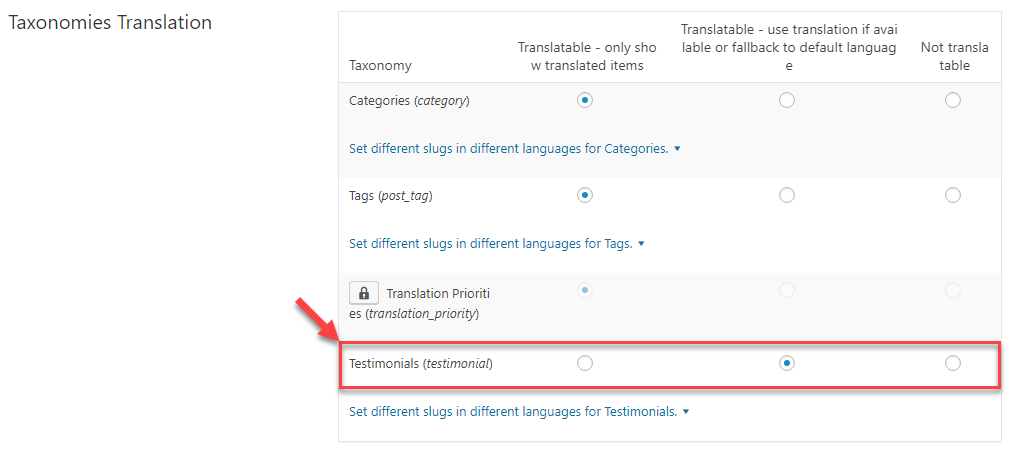 WPML Taxonomies Translation
Review Your Translations
The automatic translation may not provide the quality that a native-speaking, professional translator would. It might fail in identifying the industry jargon or slang as well. So, reviewing your automatic translation would be a good idea.
You can choose to review translations before publishing, and after publishing and skip the review entirely. If you choose to review the translations, you can find a list in the Translations Queue of things that needs to be reviewed once the plugin finishes automatic translation.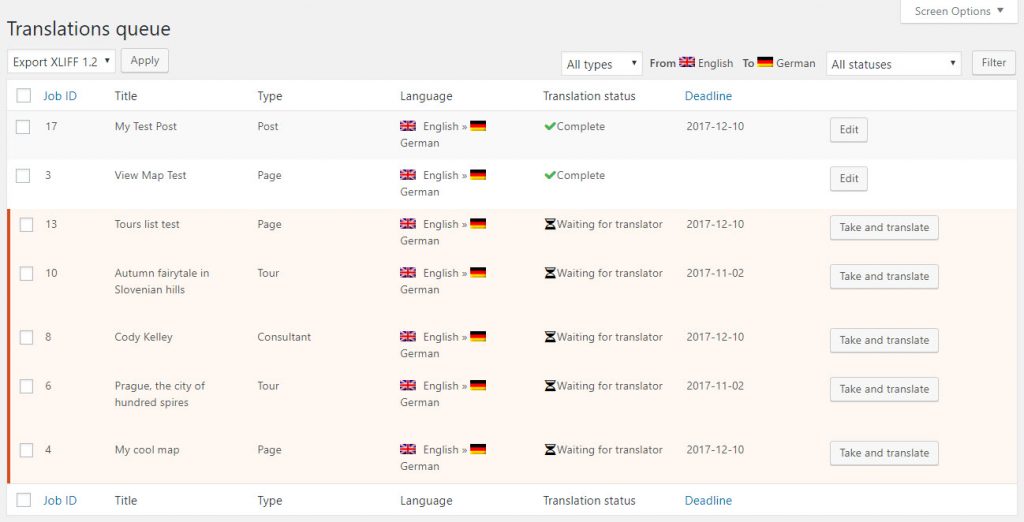 Once you click 'view,' you can see how the translations would look on the front-end. If everything looks ok, you can accept and publish the translation, or edit them using WPML's Advanced Translation Editor.

If you are not familiar with the languages you have chosen or do not have time, the review process would be hard for you. But WPML has got this covered as well. WPML has a Find a Translation Reviewer – WPML option, where you can find WPML-certified translators. They can help you review your content, and get it posted immediately. Since they are translators, you can also rely on them for complex translations.
That's it! With these three simple steps, your entire website will be automatically translated, saving you a lot of time and money! You are no longer dependent on professional translators and the translation process is done within a few minutes, not days or weeks – how cool is that!
Wrapping Up
You might by now have a fair idea of how to translate a WordPress site automatically without human intervention. If you are an entrepreneur looking to bring your business to a wider audience, an automatic translation would always be a great solution. Would you automatically translate your WordPress site? Let us know in the comment section below.
Frequently Asked Questions
Are multilingual sites possible in WordPress?
WordPress does not support a bilingual or multilingual blog out-of-the-box. There are however plugins available that will allow you to create a multilingual website easily.
How do I translate a WordPress site to multiple languages?
You can translate it using  of this plugin.
Is WPML free?
As of now, WPML does not have a free version.
What are multilingual websites?
A multilingual website is any website that offers content in more than one language. Examples of multilingual websites include a German business with an English and a Spanish version of its site.
Conclusion:
The internet mostly works in a single language – English. However, not everyone is familiar with the language and they find navigating through a site with English as its main language quite difficult. This is why it is important to implement a multilingual website that serves everyone irrespective of language barriers. Creating a multilingual WordPress site is laborious but it is also possible to automatically translate a WordPress website.
Firstly, you need to figure out the languages in which you want to display your content, and then find the best translation plugin that would make your task easy. While the translation process is time-consuming, automatically translating your site speeds it up, thereby giving you a WordPress site that supports multiple languages.